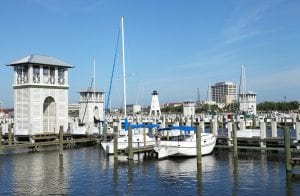 About Gulfport
Gulfport is Mississippi's second largest city, just behind its state capital of Jackson. The city is included as part of the Gulfport-Biloxi, Mississippi Metropolitan Statistical Area, where it is the larger of the two main cities. Gulfport also serves as a co-county seat of Harrison County, along with the city of Biloxi.
Click on the photo to view Gulfport properties.
Gulfport MS Real Estate
The city of Gulfport was officially incorporated on July 28, 1898, and was founded by William H. Hardy, the former president of the Gulf and Ship Island Railroad (G&SIRR). After the Port of Gulfport's harbor was completed in 1902, it became one of the region's busiest working seaports, generating millions of dollars in sales and tax revenue for the entire state of Mississippi.
Today, Gulfport is known for its scenic atmosphere, great local events, incredible entertainment venues, and wide range of fun outdoor activities. The city was recently included in CNN Travel's list of "15 charming cities in the American South you may have overlooked." The city is home to more than 30 parks and water recreation areas, first-class dining venues, a vibrant entertainment district, near-endless fishing charter options, and so much more.
Celebrities from Gulfport
Here's a list of several celebrities who have lived in or were born and raised in Gulfport:
Brett Favre – Hall of fame NFL quarterback who previously played for the Green Bay Packers, New York Jets, and Minnesota Vikings.
Stuart Roosa – Aeronautical engineer, US Air Force pilot, and NASA astronaut. Roosa was the Command Module Pilot during the Apollo 14 mission in 1971.
Brittney Reese – Reese is a six-time world champion and an Olympic gold medalist in long jump during the 2012 London Olympics. She is the current indoor American record holder in long jump, with a distance of 7.23 meters.
Lamar Williams and Jaimoe – Former members of the Allman Brothers Band.
Attractions in Gulfport
The Center for Marine Education & Research – Also known as The Institute for Marine Mammal Studies, this attraction offers visitors of all ages a unique chance to appreciate and learn more about the species inhabiting the waters of the Gulf Coast. The venue features a marine museum with aquatic exhibits, a state-of-the-art auditorium, and dolphin shows.
Gulf Islands Waterpark – Gulf Islands Waterpark is a family-friendly attraction with miles of water slides, fun rides, and cool activities. Ride the Horn Island Blaster, the Gulf Coast's only water roller coaster, or zip along Deer Island Express, a 357-foot tube slide with a 38-foot incline!
Gulfport Premium Outlets – Gulfport Premium Outlets is the Gulf Coast's top shopping destination. The sprawling shopping venue features a collection of over 70 designer and name-brand outlet stores, featuring brands such as Under Armour, GAP, J. Crew, Banana Republic, Ann Taylor, Nike, Polo Ralph Lauren, and many more.
Seafood restaurants – You'll feel right at home in Gulfport if you love seafood – the city is home to a superb selection of incredible seafood restaurants. Some spots you should check out are: Blazin Cajun Seafood, Beach Blvd Steamer, Captain Al's Steak & Shrimp, and Catfish Charlie.
Best restaurants in the Mississippi Gulf Coast The Gulf coast has many amazing sights, and a range of wonderful activities. It is a place where there is always something to do and see. One of the best aspects about the Gulf Coast is the plethora of excellent restaurants. Whatever your taste buds are in the mood for, it is likely that you will be able to find it here. Have a look at some of the highest rated restaurants in the area that serve tasty food in an amazing setting.