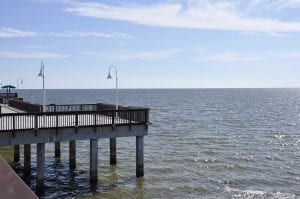 Bay St Louis MS Real Estate
About Bay St. Louis
Bay St. Louis is a coastal city located in Hancock County, where it serves as the county seat. The city covers a total area of nearly 17 square miles, about 10 of which consists of water. Nestled on the Bay of Saint Louis, this picturesque seaside community has been included in Coastal Living Magazine's list of "Top 10 Beach Towns," as well as one of the "Coolest Small Towns in America" by Budget Travel.
Click on the photo to view Bay St Louis and Waveland properties.
Bay St. Louis is a city that's proud of the region's heritage, as evidenced by its stately historic buildings and friendly community of residents.
About Waveland
Also located in Hancock County is the incredibly welcoming city of Waveland, a Gulf-front community nicknamed "The Hospitality City." It is the only Gulf Coast Community known for preserving its shores by prohibiting the construction of commercial buildings on its beachfront. The city occupies nearly 7 square miles, and is home to roughly 6,500 residents.
Beaches of Bay St. Louis and Waveland
Bay St. Louis Beach is a well-maintained beach that boasts pristine white sands and a relaxing atmosphere. The beach is perfect for a wide array of activities, including catching some sun rays, reading a book, bird watching, walking your dog, and more. Visitors who walk towards Main Street will find plenty of activity, as well as a great selection of dining venues and bars. Heading towards the Gulf, on the other hand, leads to a more serene, and peaceful environment, giving you great options on how to spend your day at the beach.
Due to the effects of Hurricane Katrina, Waveland's sprawling Buccaneer State Park recently underwent renovation, with the final phase of reconstruction completed in November of 2013. The picturesque destination is truly a masterpiece created by nature, with soaring moss-covered oaks, enchanting marshlands, and sweeping views of the Gulf of Mexico. Also known as Jackson's Ridge, the seaside park features more than 300 campsites, a 4.5-acre water park known as Buccaneer Bay, a network of nature trails, a disc golf course, and many more.
Historical Bay St. Louis and Waveland
The Alice Moseley Folk Art & Antique Museum is one of the Mississippi Gulf Coast's must-visit destinations. In addition to housing the works of Alice Moseley, the museum also features an extensive collection of depression glass, Majolica vases, vintage bottles, and antique everyday objects.
The Bay St. Louis Historic L & N Train Depot is a 1928 mission-style two-story building surrounded by expansive park-like grounds. This historic destination is listed as a Mississippi Landmark, and is included in the National Register of Historic Places.
Located at the foot of Waveland's Coleman Avenue is the Veterans Memorial Park and the Veteran's Memorial Monument, which was built in honor of all veterans. Right next to the monument is the Garfield Ladner Pier, a concrete pier built as a replacement to the former wooden pier that was lost due to Hurricane Katrina. The pier is very popular not just for anglers, but for walkers, runners, bikers, and outdoor lovers as well, with its scenic biking/walking tracks and picnic pavilions.