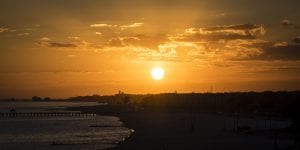 About Pass Christian
Pass Christian is a city located in Harrison County, between Henderson Point and the city of Long Beach. It is nestled on a peninsula on the Mississippi Sound, surrounded by three bodies of water: the Bay of St. Louis, the Gulf of Mexico, and a large bayou on its north. Nicknamed "The Pass," the city is included in the Gulfport-Biloxi Metropolitan Statistical Area, encompassing a total area of about 15 square miles. The city is currently home to more than 5,000 permanent residents.
Click on the photo to view Pass Christian properties.
Pass Christian MS Homes for Sale
Pass Christian was originally discovered in 1699 by French-Canadian explorers, right after the establishment of the first French colony in Biloxi. It took its name from a nearby deepwater pass, which was named after Nicholas Christian L'Adnier, a resident of Cat Island during the mid-1700s.
Today, the city of Pass Christian is known as a very desirable place to live, with a friendly community atmosphere, great outdoor venues, and scenic surroundings. It offers a high quality of life, and is perfect for anyone searching for an ideal place to live, work, and play.
Schools in Pass Christian
The Pass Christian School District administers schools in Pass Christian, as well as those in nearby unincorporated areas. The Pass Christian Center for Excellence houses both Pass Christian Elementary School and Pass Christian Middle School, as well as an attached Boys & Girls Club and a day care center.
Pass Christian High School was built in 1999 to replace the 1930 school building that used to house Pass Christian Middle School. The school serves students from grade 9 to 12, and is one of the few schools in the country to be named as a Blue Ribbon School of Excellence by the US Department of education. It has been recognized as one of the best high schools in the US by US News and World Report. Pass Christian High School consistently holds one of the top Quality of Distribution Index (QDI) rankings in the state.
Best restaurants, arts and culture venues, and outdoor activities in Pass Christian
Pass Christian is home to a top-notch selection of culinary destinations that can satisfy any type of craving. Whether you're in the mood for seafood, Greek cuisine, pizza, Asian fusion, or delectable desserts, you'll have no problem finding a restaurant that will give your taste buds a treat. Some of the best restaurants in town include Bacchus on the Beach, Fatsumo Sushi, Uncle Joe's Pizza and Wings, Crystal Seas Oysters, and Hook Gulf Coast Cuisine.
Searching for unique one-of-a-kind gift items? Thou Art and Gifts is the place you're looking for. Both a small local artist gallery and a gift shop, this terrific venue carries a wide variety of handmade craft, ranging from fun, quirky items to elegant trinkets, and everything in between. Simply browsing through their extensive selection is a fun experience, as there are so many great things to discover!
Outdoor lovers and fishing enthusiasts in Pass Christian can enjoy fishing charters and tours, water sports, boat tours and more, as there are plenty of great options available in the city. Be sure to check out Coast Adventures, OutKAst Charters, or Legends of the Lower Marsh.