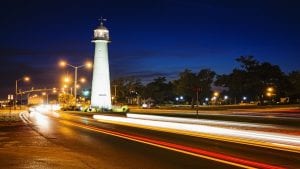 About Biloxi
Biloxi is a city located in Harrison County, between the cities of Gulfport and Ocean Springs. Included as part of the Gulfport-Biloxi metropolitan area, the city encompasses approximately 46 square miles, and is currently home to about 46,000 permanent residents.
Click on the photo to view Biloxi properties.
Biloxi MS Real Estate
Biloxi is one of the country's oldest cities – it was settled in 1699, during the Colonial era. Today, it is one of the Mississippi Gulf Coast's most dynamic cities, with its unforgettable citywide events and celebrations, picturesque white sand beaches, unparalleled freshwater and deep sea fishing, must-visit seafood restaurants, 24-hour casino resorts, and so much more.
Outdoor recreation activities
Biloxi is home to several world-class championship golf courses perfect for avid golfers of any skill level. Players can enjoy a relaxing experience playing through lush fairways and manicured greens set amidst a stunning backdrop of rolling hills, soaring treetops, and serene waterscapes. Some of the best public golf courses in the city are Grand Bear, Dogwood Hills Golf Course, Keesler Air Force – Bay Breeze Golf Course, and Sunkist Country Club & Golf Course.
The beaches in Biloxi are some of its biggest attractions. All of the beaches are well-maintained, with fine, powder-white sands and calm water conditions created by barrier islands in the Gulf of Mexico. The beaches are very popular during the summer, but are also great to visit during most parts of the year.
Ship Island is an incredible destination that's easily accessible from Biloxi, located 12 miles off the coast. Consisting of two barrier islands, Ship Island is a popular day trip destination for many families, with its captivating white sands, amenity-filled boardwalks, and plethora of fun recreational activities.
Fishing in Biloxi
Biloxi offers the finest saltwater fishing in the south! Anglers can head to one of the city's marinas to book a fishing trip on a charter boat. Charters are available from three to eight-hour lengths and offer a variety of trips, including near and off-shore trips, reef and wreck tours, bottom fishing, drift fishing, and more.
If you're looking for something more affordable, you can also check out some of the city's many fishing piers and marinas. Just remember not to cast a line if you're without a fishing license. Visit this page for more information.
Here are some of the fishing piers located around the city:
Biloxi Lighthouse Pier
Point Cadet Fishing Bridge
Schooner Pier Complex
Biloxi Small Craft Harbor
Events in Biloxi
Visitors and residents look forward to plenty of unforgettable events in Biloxi each year. Here are some of them:
Cruising the Coast – Thousands of classic cars converge on the Mississippi Gulf Coast for an entire week. Car enthusiasts parade their antique, classic, hot rods & custom vehicles up & down Highway 90 at designated stops in Bay St. Louis, Biloxi, D'Iberville, Gautier, Gulfport, Long Beach, Ocean Springs & Pascagoula. Since its inception in 1996, Cruisin' the Coast has grown from 374 cars to over 7,000 annually.
South Mississippi Summer Fair – Held on the grounds of the Mississippi Coast Coliseum, the South Mississippi Summer Fair is a family-friendly event featuring live music, rides, competitions, and tons of entertainment.
Biloxi Seafood Festival – The Biloxi Seafood Festival is a grand celebration of the city's seafood heritage. Usually held in September, the festival features live entertainment, arts and crafts booths, kids activities, and of course – the best seafood available on the Mississippi Gulf Coast.
Annual Biloxi Christmas in the City – For many residents, this annual event is the best way to kick off the holiday season. It takes place at the Downtown Biloxi Arts District, treating event-goers to an exciting day filled with bands, choirs, and dancers, along with a wide variety of food and gift vendors.