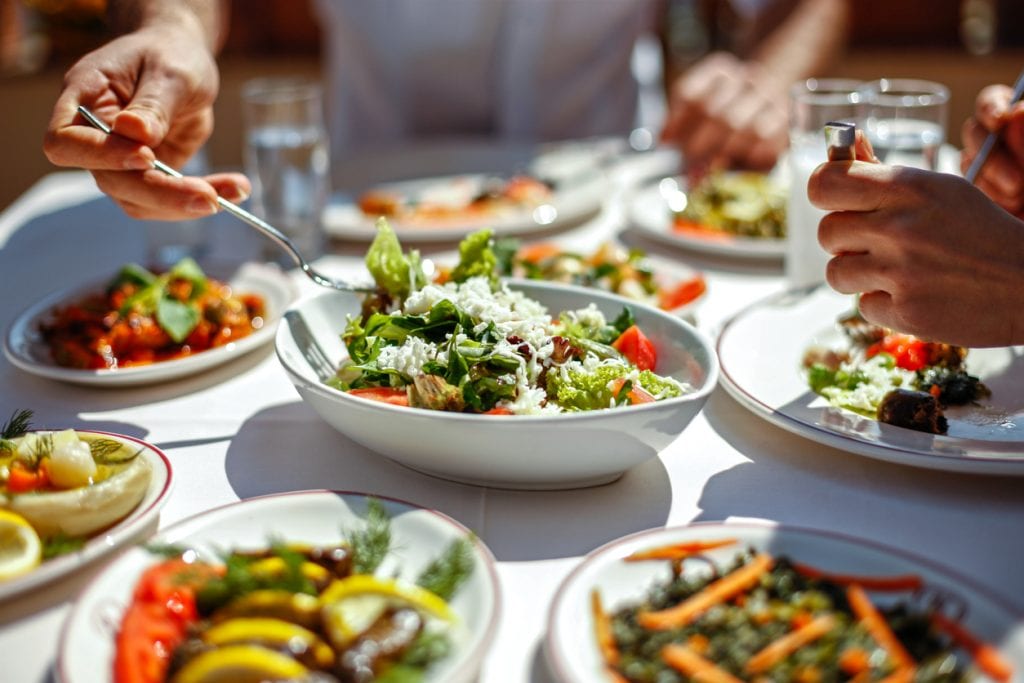 There are so many places to visit in Mississippi, especially on the Gulf Coast, that it can be difficult to make a choice.
From the different casinos, to the Biloxi Light, Biloxi attractions offer everything new and historical. And the Lynn Meadows Discovery Center and Jones Park are only a couple of things to do in Gulfport, MS.
But if you are looking for food, you are in luck. Seafood restaurants in Biloxi, MS are an obvious choice, but bakeries, steak, burgers and Japanese, Mediterranean and Cajun cuisine are also on the menu. Whatever your taste, something in this list is sure to please.
Landshark Bar and Grill
One of the things for kids to do in Biloxi, MS is to visit Margaritaville Resort and Family Entertainment Center on Beach Road. Virtual Reality experiences and rides, zip lines, rock walls and a variety of other entertainment will delight kids of all ages. And when you want to take a break, the Landshark Bar and Grill offers a great kid's menu as well as family favorites, burger, pizzas, sandwiches and salads. While the dessert menu is limited, the resort also hosts The Sweet Shack" home to some of the most decadent ice cream sundaes, fruit purees, lemonades and more".
Vestige
Locally owned and operated by James Beard Foundation recognized Chef Alex Perry and his wife Kumi Omori, Vestige is located on Washington Ave. in Ocean Springs, MS.
They strive to keep their menu sustainable, seasonal and local and create fresh menu items regularly. You can start with an appetizer of Biloxi deer island French hermit oysters, followed by Berkshire pork loin, spätzle, smoked cabbage, mushroom koji cream and end the meal with sticky toffee pudding cake. You won't leave hungry, but you will want more.
White Pillars of Biloxi
Chef Austin Sumrall spends most of his Saturday mornings at local farmers markets and strives to bring farm to table cuisine in an elegant setting at White Pillars. Located on Beach Blvd., the restaurant makes Mississippi the focus, from the Satterfield Pottery and Pass Christian Soap in the restrooms, to the Coast Roast Coffee & Tea and local artists paintings featured on the walls. Even the tables are locally crafted giving a new twist to Farm to Table. Joyce Farms Whole Fried Chicken, Gulf Seafood Pasta, and, of course, Shrimp and Grits are just a few of the menu items to make your mouth water.
Fillin' Station in Downtown Biloxi
Located on Howard Avenue, Fillin' Station in Downtown Biloxi offers basic, solid food at great prices. Specials of the day include Pork Chops on Mondays and Hamburger Steaks on Wednesdays. Crawfish Nachos, Seafood Gumbo, burgers, and red beans and rice make it a nice quick alternative to fancier fare.
The TatoNut Shop
Ocean Springs also offers the best donuts in Mississippi. The TatoNut Shop uses potato flour for their donuts and they are so good that people with a long layover will come from the airport to take them home. During Mardi Gras they make a special King Cake donut and call themselves "The Only Real Donut".
Stalla
Stalla is the best Italian restaurant in Mississippi according to the DailyMeal.com. The restaurant opened three years ago at the Beau Rivage Resort & Casino. The Florence-born chef has created a traditional Italian menu that includes Calamari, brick oven pizza, Veal Parmigiana, and a variety of pasta dishes, paired with premium Italian wines keeps people coming back.
Mary Mahoney's
For the most romantic restaurant on the coast and in the state of Mississippi, Mary Mahoney's on Rue Magnolia, across the street from Beau Rivage and the Hard Rock Café, has been serving elegant meals for over 50 years. The dining area, set inside one of the most beautiful homes in the city offers Gulf Coast seafood, steaks and exquisite desserts. Dining is also available in the New Orleans style courtyard under the live oaks. The restaurant has hosted dignitaries, celebrities and more than a few presidents.
The Shed
No list would be complete for the south without Barbeque. And the best in Mississippi is on Highway 57 in Ocean Springs. The Shed is a Barbeque and Blues Joint. Their menu is quintessential BBQ, Brisket, Ribs, Chicken and Pork, Mac & Cheese, Collard Greens and Sweet Potato Casserole. Oh, and don't forget the Fried Pickles. The meats are smoked daily using pecan wood smoke and slathered in their sweet southern sauce. The World Grand Championship BBQ winners know how to make a plate.
Finding good food in Mississippi is as simple as stepping through the door into so many great restaurants. The variety and flavors offered will never leave you bored. And the atmosphere will always keep you smiling.