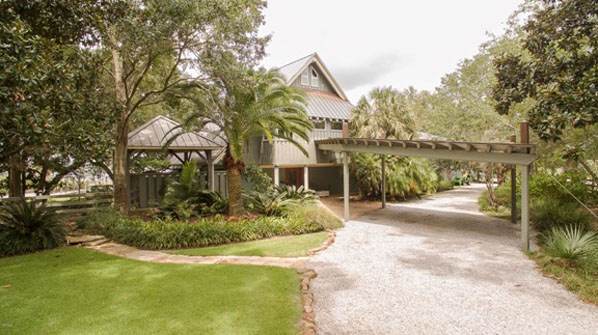 The waterfront home at 302 La Salle Court has four bedrooms and three bathrooms. With a floor size of about 3,800 square feet, it is situated on three lots measuring 2.1 acres.
It is located in the subdivision of Seapointe in Ocean Springs, one of the most coveted addresses in the city – the area is known to have an eclectic art community that creative types will surely appreciate. What's more is that the owner's of this unique home will have the beauty of entering the subdivision by traveling down Lover's Lane, a sought after Ocean Springs waterfront community.
Those who are lucky enough to live here will have plenty of indoor and outdoor space at their disposal. The spacious yard makes this home ideal for families with pets, while the outdoor kitchen, which comes with a grill, burner, and refrigerator, is perfect for those who enjoy outdoor BBQs.
Boating enthusiasts will delight in the fact that this home comes with two boat slips and two boat lifts, allowing you to make the most of the home's splendid waterfront setting. All decks are made of composite material.
Built in 1968, the three-level home has been updated to include modern conveniences and contemporary décor. Despite these renovations, however, the home retains much of that lived-in feel that new construction homes lack.
A sanctuary in the middle of the city
The home is situated on three wooded lots populated by impeccably maintained plants and trees. A gravel road leads to a staircase that takes you up to the viewing deck, which commands stunning views of the water.
Double glass doors open into the living area, which features pendant lights, natural wood flooring, beamed ceilings, and a fireplace, all of which helps create a warm and welcoming atmosphere. Spend quiet evenings reading by the fire or having coffee with friends and family.
Glass walls and oversized windows allow plenty of natural light to enter. The walls have been painted a wonderful sea green color.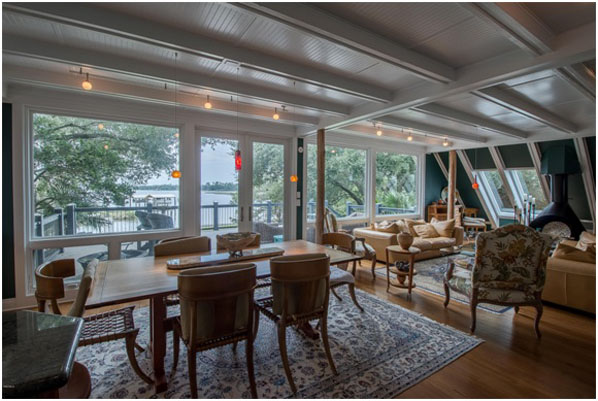 The modern kitchen comes with natural stone countertops, custom cabinetry, a cooktop, a double oven, and a refrigerator. It's the kind of kitchen that lets you whip up elaborate meals for your family, and is perfect for those who enjoy cooking in their spare time.
The seating area boasts oversized windows that command views of the water and mature trees outside.
The master bedroom features vaulted ceilings and pine flooring. The walls have been painted a beautiful blue color that is evocative of the home's waterfront setting. This is the kind of bedroom where you can relax and get away from it all.
The master bathroom has a wonderful tub where you can sit and relax for hours on end.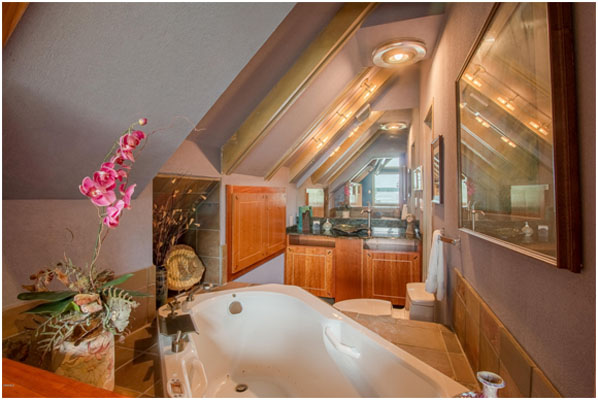 Hobbyists will especially love the separate workshop, where they can build and tinker as much as they want.
The city of Ocean Springs is home to numerous attractions like the Walter Anderson Museum of Art, Fort Maurepas City Park and Nature Preserve, and more.
This home with three lots of over 2 acres has a list price of $1,275,000, though the comfort and privacy it affords is worth so much more than that. For inquiries, feel free to give Owen & Co. LLC a call at (228) 822-9870 or send an email to Info@OwenAndCo.com.