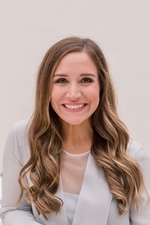 228-822-9870
228-822-2818 fax
228-806-9822 cell phone

Danielle.Owenandco@gmail.com
2208 18th Street, Suite B
Gulfport MS , 39501
Receive Email Alerts from Me
Danielle Owen is a Realtor with deep seated Coastal history, born and raised in Biloxi, Danielle knows how and where to find everything you need, to buy or sell property along the Mississippi Gulf Coast. She is an active member in the National Association of Realtors, the Gulf Coast Association of Realtors and the Mississippi Listing Service.
Some of Danielle's attributes are her compassion, loyalty, and commitment to her clients. She is comfortable using the latest technologies needed to market real estate. From the first time you meet Danielle you will know that she is capable, her rich background in sales, coupled with her exceptional customer service guide her to develop everlasting relationships with her clients.
Danielle graduated from Mississippi State University in 2013, where she held numerous leadership roles, served on the Student Activities Board and served as a MSU Senator. She was consistently honored throughout her education and was appointed as an Undergrad to the Dean's List while at Mississippi State University. Danielle also graduated Magna Cum Laude with a Master of Business Administration from William Carey University.
With her free time Danielle stays actively involved in community service events and has served many years as a member of the Gulf Coast Carnival Association.
The Mississippi Gulf Coast is rapidly growing. Danielle is ready and able to help you find the perfect home or investment property during this exciting time in our community. She is eager to make your experience with Owen & Co., LLC one like no other agency on the Coast.
Danielle has all the resources of the many years of real estate experience from the professionals at Owen & Co. Real Estate available to assist her fulfill her client's needs.
Owen & Co., LLC Real Estate has a long family history serving the Mississippi Gulf Coast since 1945.
Let our broad knowledge and experience of the market help you meet your needs, whether buying or selling real estate. We specialize in both commercial and residential properties in cities all along the Gulf Coast.
Owen & Co., LLC Real Estate maintains a strong knowledge of what's available in the area and how much properties in the community are selling for. Prices can vary greatly, depending on quality, size and location. Single-family homes abound, as do vacation homes and condos for those looking for a beach retreat on the spectacular Gulf Coast.
Contact Danielle with Owen & Co., LLC today and tap into our invaluable experience and knowledge. We look forward to hearing from you!
Danielle Owen 's Listings
Listing Office: Owen & Co., LLC